Episode 80. G sneezes on my dog in this episode. How messed up is that?

Subscribe via iTunes - iTunes only link.
Download the podcast ~22:00 mins MP3.
Subscribe to feed via RSS by copying the link to your RSS Reader


Want to Rejuvenate your legacy Rails application? Call Mocra as your first-choice team, led by Dr Nic. Mocra loves code, loves users, and they want to help you. Mention this advert to qualify for our largest discount consulting rate immediately. Check out Mocra.com for more info.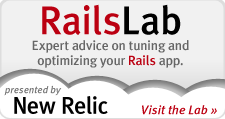 NewRelic provides RPM which is a plugin for rails that allows you to monitor and quickly diagnose problems with your Rails application in real time. They also recently produced Rails Lab, which gives you expert advice on tuning and optimizing your Rails app.
Show Notes
Ruby 1.8.6 Maintenance Transition
VIM Ruby Debugger
Autotest and Vim integration
Scotland On Rails Presentations
LA Rubyconf videos up

Alternative to Multiruby

out of time (mat brown on programming) - Installing alternate Ruby versions as optional packages
out of time (mat brown on programming) - A 15-line alternative to multiruby

externals - manage your external git dependancies
Parallel Specs

EngineYard: 5 Tips to Scale Your Rails App

5 Tips to Scale Your Ruby on Rails Application | Union Station
RailsLab .:. Scaling Rails

CurbFU
TATFT Mousepad
Secret URLs in Rails

RubyTrends

RubyTrends
Ruby on Rails Plugins | AgileWebDevelopment

Dear Railsists, Please don't be obtrusive
Family Tree using Graphviz and Ruby
Importing Mephisto Comments into Disqus
Agile Ajax: Fixture Replacement Comparison
Barometer

Toronto Ruby Job Fair

FutureRuby
employment.nil?

Ruby Currying
UC Berkeley 1 day ruby on rails tutorial videos
Ruby One-Click Installer Plegie
Injet and the Mandelbrot Set
Mac Friendly Autotest